On Friday 28th, Saturday 29th February & Sunday 1st March the College of Dance were back at PERFORM in the RDS for their second annual event. It was a brilliant weekend. Interest in the event has grown substantially and this was reflected in both the total number of attendees and the number of people speaking to the College about our full-time and Transition Year training courses. There was a brilliant buzz each day, with so much going on over the three-day event. There were lots of dance and performing arts exhibitors, classes, lectures, workshops and competitions galore. For the second year running, The College of Dance had its own stand where there was a huge volume of conversations with prospective new students, transition year students, friends of the College, past students and industry professionals. We would like to thank the event organisers for the professionalism of their management and their brilliant team of helpers who could not have been nicer to work with.
The event was a real mix of all things dance, music and performing arts. The main stage was consistently alive with fabulous performances from a diverse range of groups. It was brilliant to see so many different genres of dance and performing arts represented. There was a myriad of workshops and masterclasses throughout the three days. The College's masterclasses were some of the most popular classes and were quickly sold out over the weekend. One of our sessions even got moved to a larger space to facilitate the number of attendees.
There were a number of talks throughout the weekend and the College's Artistic Directors, Samantha Lyons, Chairman, Matthew Duffy and four current College students, gave a talk to a packed out audience of prospective parents and students about life at the College of Dance.
Our students had a fantastic weekend and were an absolute credit to the College of Dance. They took part in lots of the workshops, assisted on the College's stand, spoke to potential new students and their families and performed on the main stage each day. It was brilliant for them to soak up the atmosphere, meet a few of the celebrity guests, past students and network with some of the third-level dance colleges such as the Institute of the Arts Barcelona (IAB) and Morea Performing Arts.
EVENT HIGHLIGHTS
It is hard to select a handful of highlights from such an action-packed and fantastic three-day event. There were so many moments that stood out and we celebrated as a College. Firstly, the College of Dance students performing on the main stage and thrilling the audience was brilliant. The students performed three times over the event, once each day. They performed jazz and contemporary numbers, both works of original choreography. They also performed a musical theatre piece which was incredible. The students were fabulous and received such an overwhelming response from the audience.
The next highlight must be the amount of College of Dance students that received scholarship offers to various advanced summer schools and dance interns at the event… more on this below. We were also delighted that a number of College students were offered places onto some of the best third-level dance and performing arts courses in Europe. Some of these offers were also for scholarship places.


Our final highlight must be how much interest and attention the College of Dance generated at the event. Our stand was always full of visitors, most inquiring about our dedicated Transition Year course and two-year dance and musical theatre diploma course. The College masterclass, which we delivered throughout the event, were all completely sold out, one even being moved to a larger space to facilitate the numbers attending. Throughout the event we met a huge number of potential students and were delighted to offer a number of scholarships to both our Easter & Summer dance intensives. It was fantastic to teach, meet and talk to so many gifted dancers and their families. It was lovely to hear about their dreams of being a professional performer and how the College of Dance can help them achieve their goals.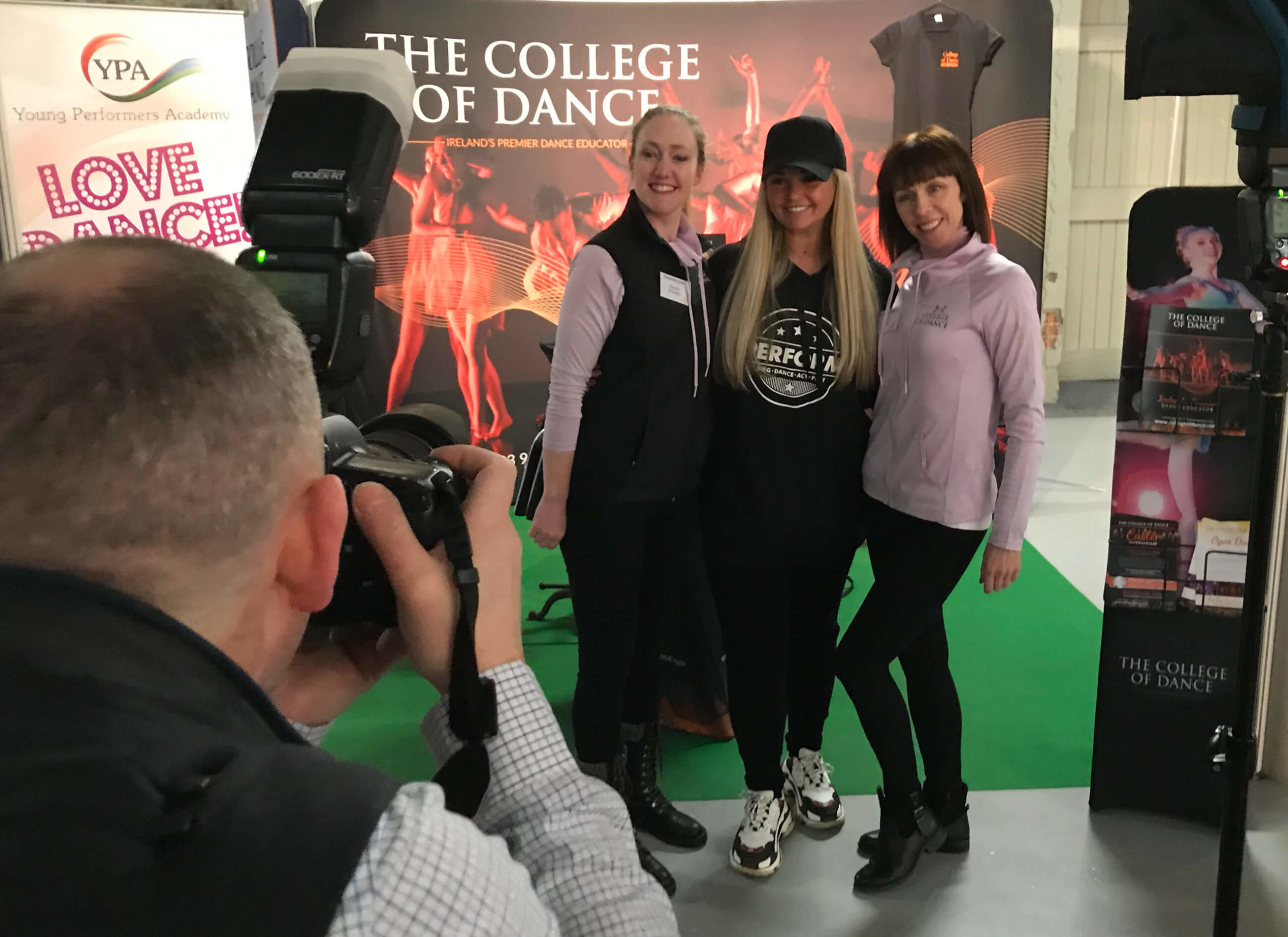 FRIENDS OF THE COLLEGE
As always at these events is was great to see so many familiar faces, friends of the College of Dance and bump into the odd dance & performing arts celebrity. We said hello to a wide mix of professionals, there to perform and teach master classes, school directors we have connections with, as well as a huge number of College graduates who now teach at dance and performing arts schools. We met Jennifer Ellison. Originally famous for appearing in Brookside, she went onto star in the 2004 film adaptation of The Phantom of the Opera and the TV show Dance Mums. Jennifer. along with the two College Artistic Director, Samantha Lyons & Bernie O'Rourke, posed for photographers at our stand.
It was lovely that good friend of the College, Adam Garcia, was at the event. Adam, who has a long standing connection with the College of Dance, spent time on our stand catching up with the Artistic Directors and chatting with our students. It was lovely to see how excited they were to meet him. Adam is an stage & screen star best known for lead roles in musicals such as Saturday Night Fever and Kiss Me Kate. He has performed in numerous TV show but is probably best known for being a judge on Dancing with the Stars & Got to Dance. He has twice been nominated for Laurence Olivier Awards. During his time at Perform, he wowed the audience with a main stage performance and taught a number of sold out master classes. Adam posed for photographs with the College's Artistic Directors and students.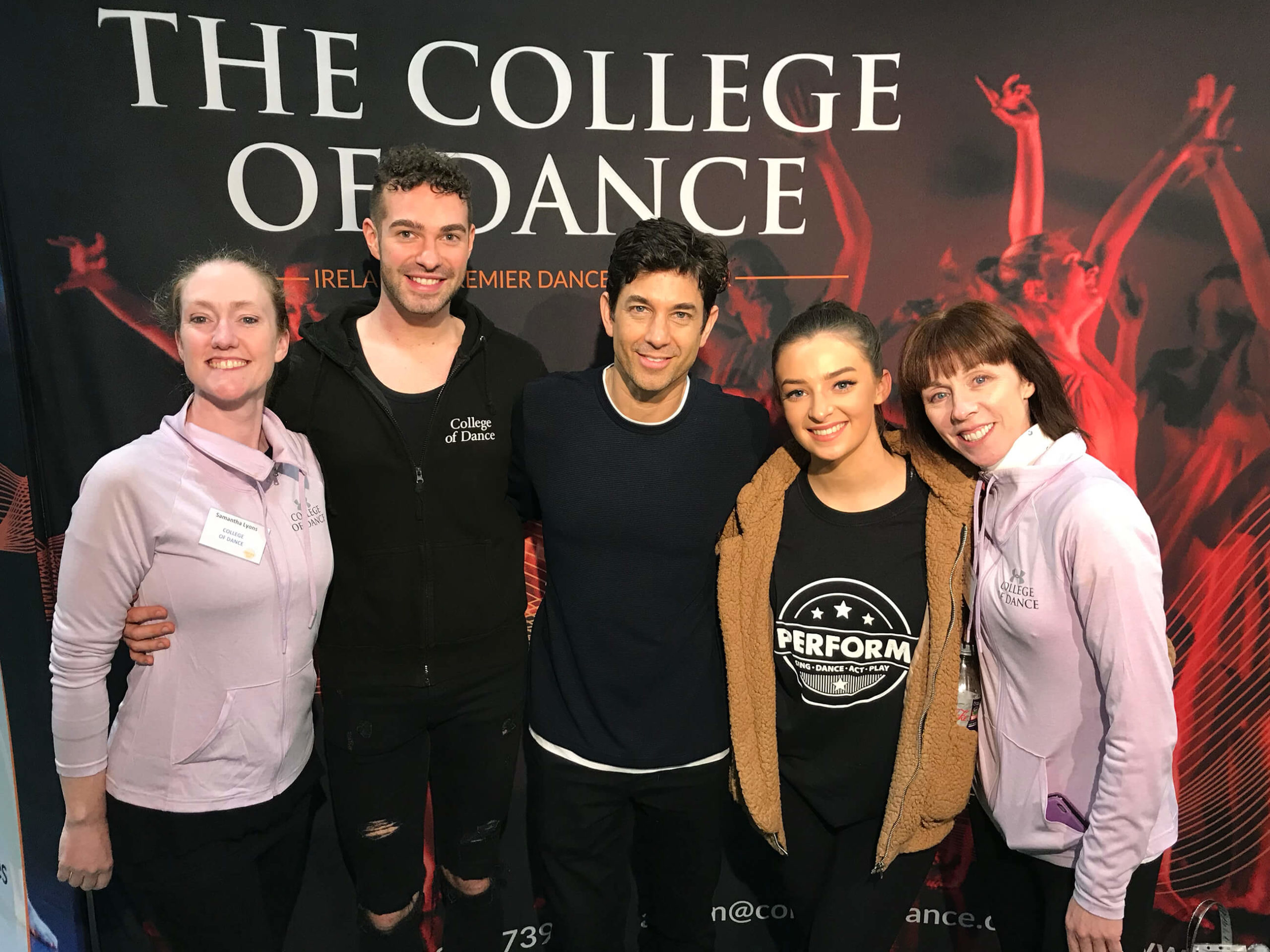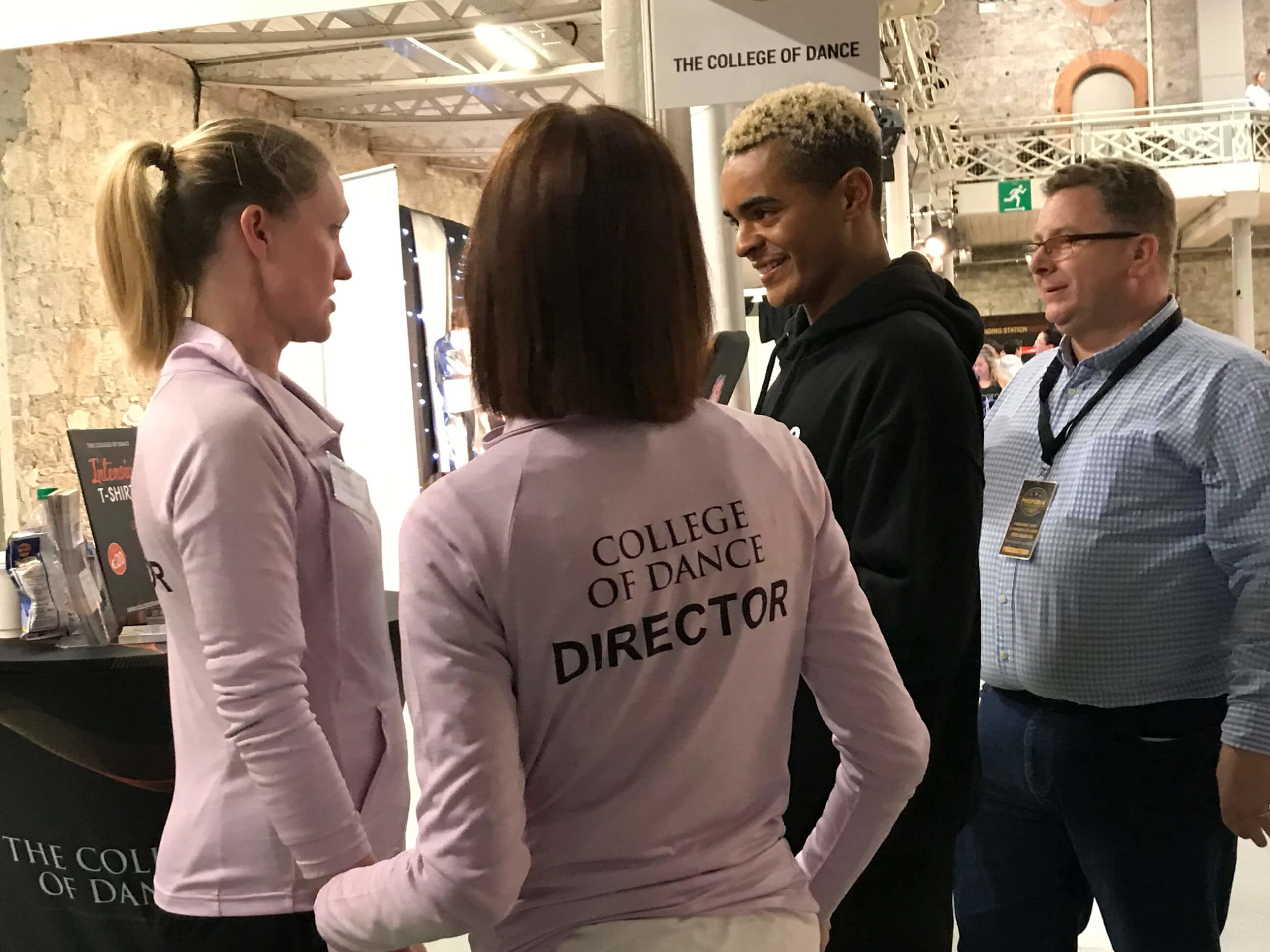 One of the highlights for many people at the event was the visit on Layton Williams. While Layton might be best known for playing Stephen in television's Bad Education he's had a highly successful stage career. His first professional job was playing the title role in Billy Elliot on London's West End. He also played a young Michael in the musical Thriller, Angel in Rent and most recently Jamie in Everyone's Talking About Jamie. Layton popped over to the stand to chat to the College's Artistic Directors about Irish dance and performing arts education, what the College offers and the general dance scene in Ireland. While at perform Layton taught a number of master classes which were packed out. A new friend of the College and we are keen to keep this connection up.
Another highlight of the weekend was the main stage performance of ProdiJIG. An Irish Dance group that have performed on Britian's Got Talent, Tonight at the London Palladium, NBC's World of Dance and were the winners of series three of Sky's Got to Dance. They have performed all over the world and sold out theatres both domestically and internationally. We are delighted that two College graduates are part of the current ProdiJIG cast. Georgina Donovan & Christen Mooney, along with the rest of the ProdiJIG dancers, wowed the audience with their performance. They then headed over to our stand to catch up with the Artistic Directors & speak to the current students.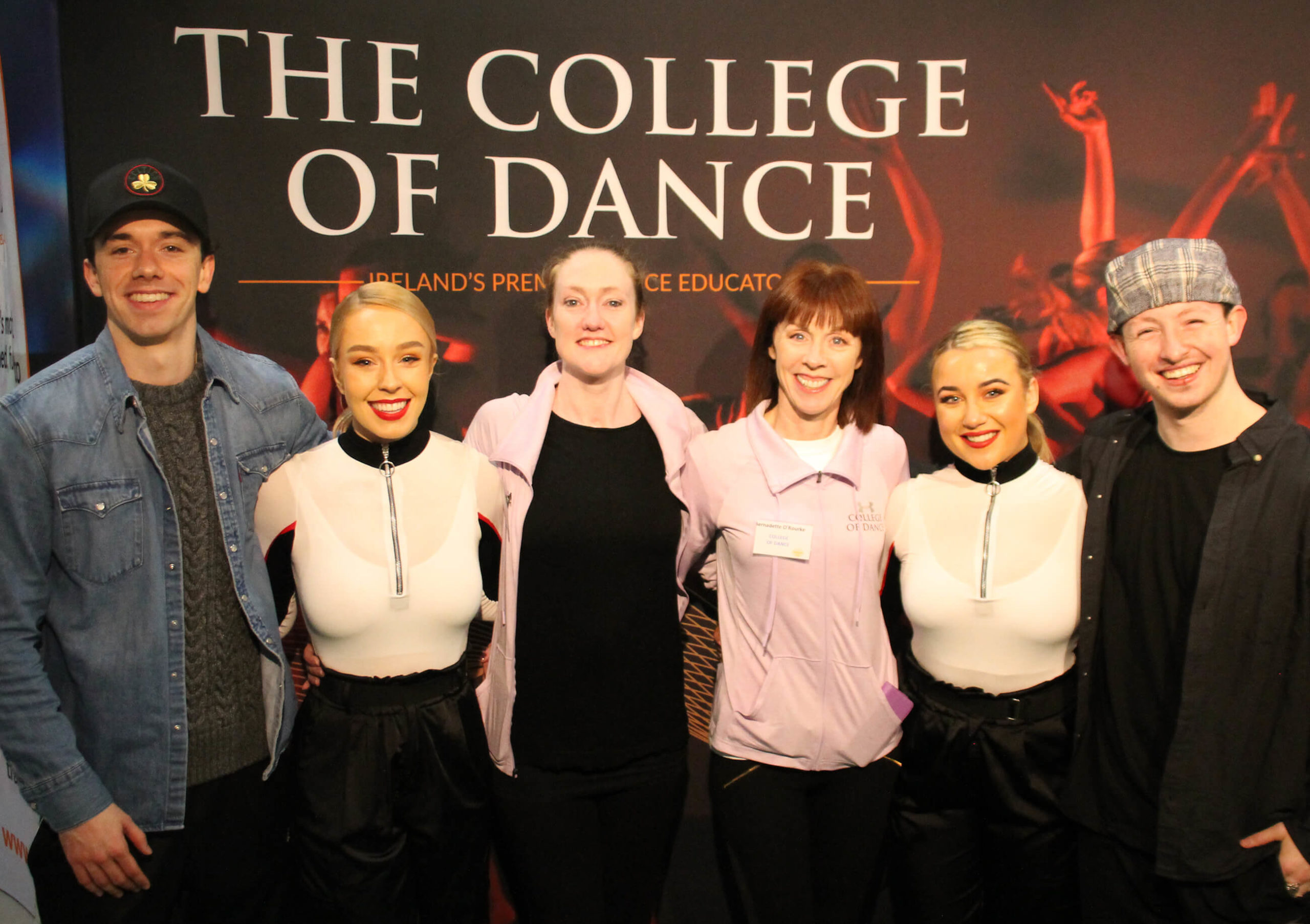 COLLEGE SUCCESS
For both the College of Dance, and our fantastic students, the weekend was hugely successful. A number of our students were offered scholarships places to summer schools, intensive courses and associate programs, from third-level leading colleges such as Institute of the Arts Barcelona, Italia Conti London and Hollywood Summer Tours USA. A massive congratulation to all of the College students who were selected.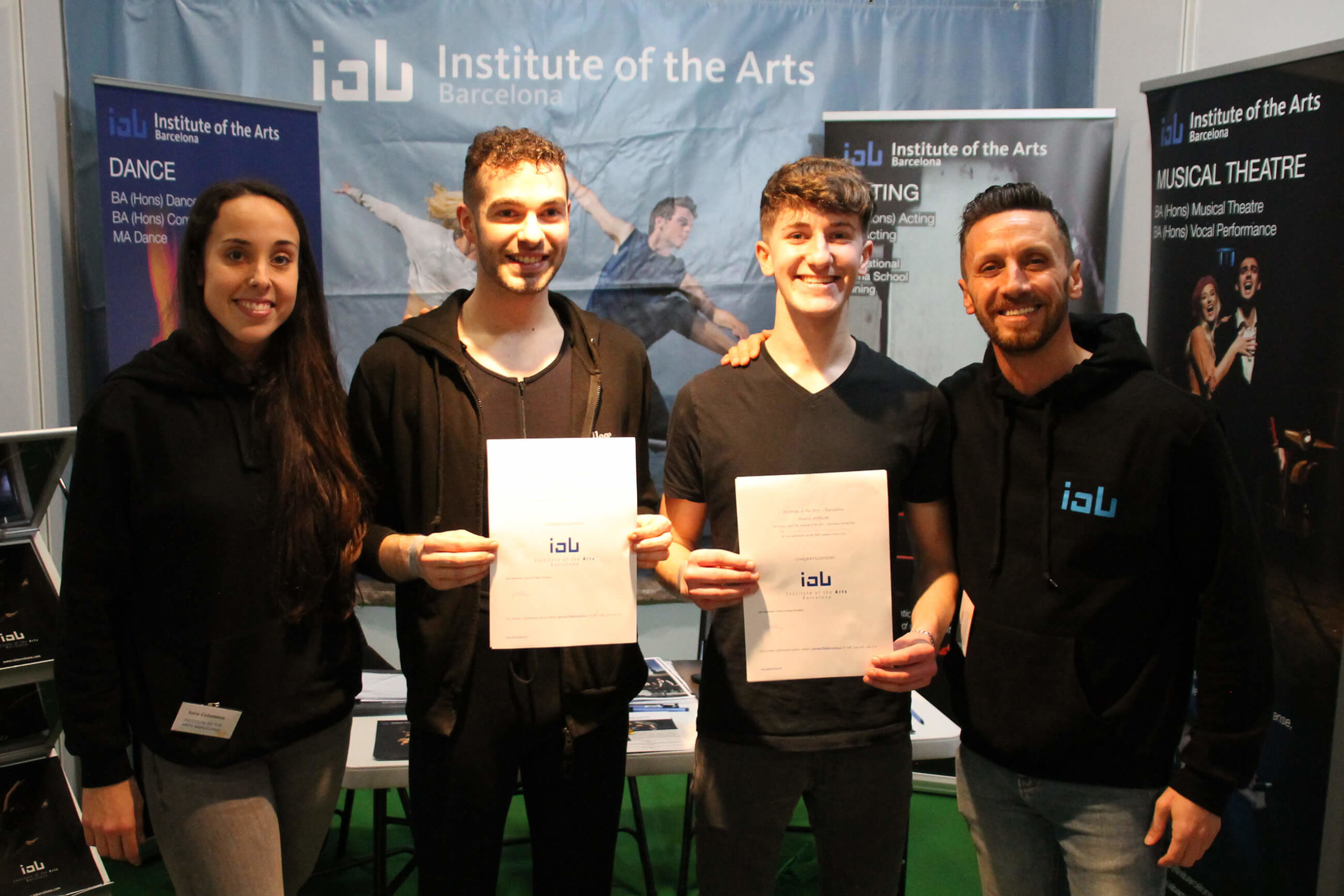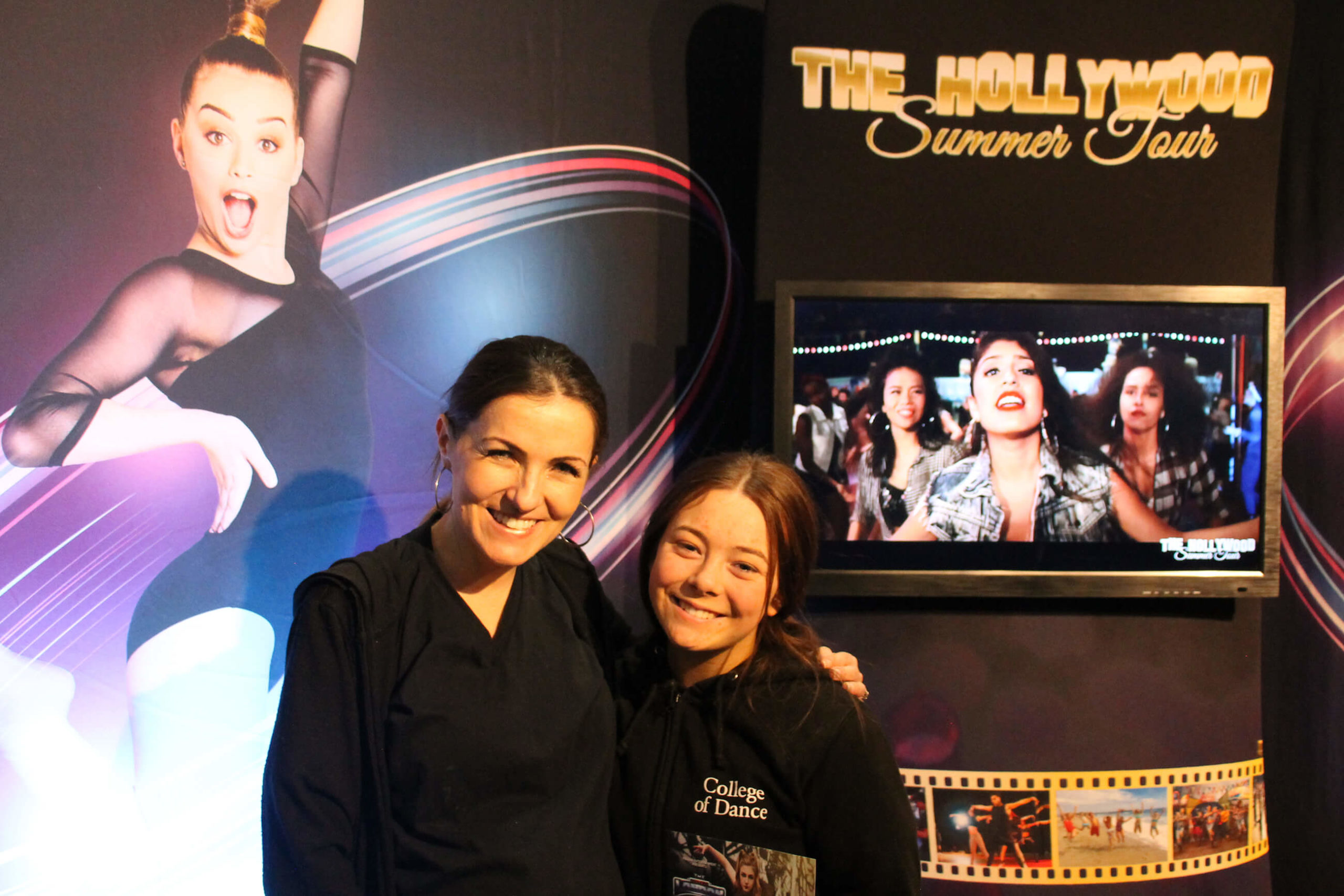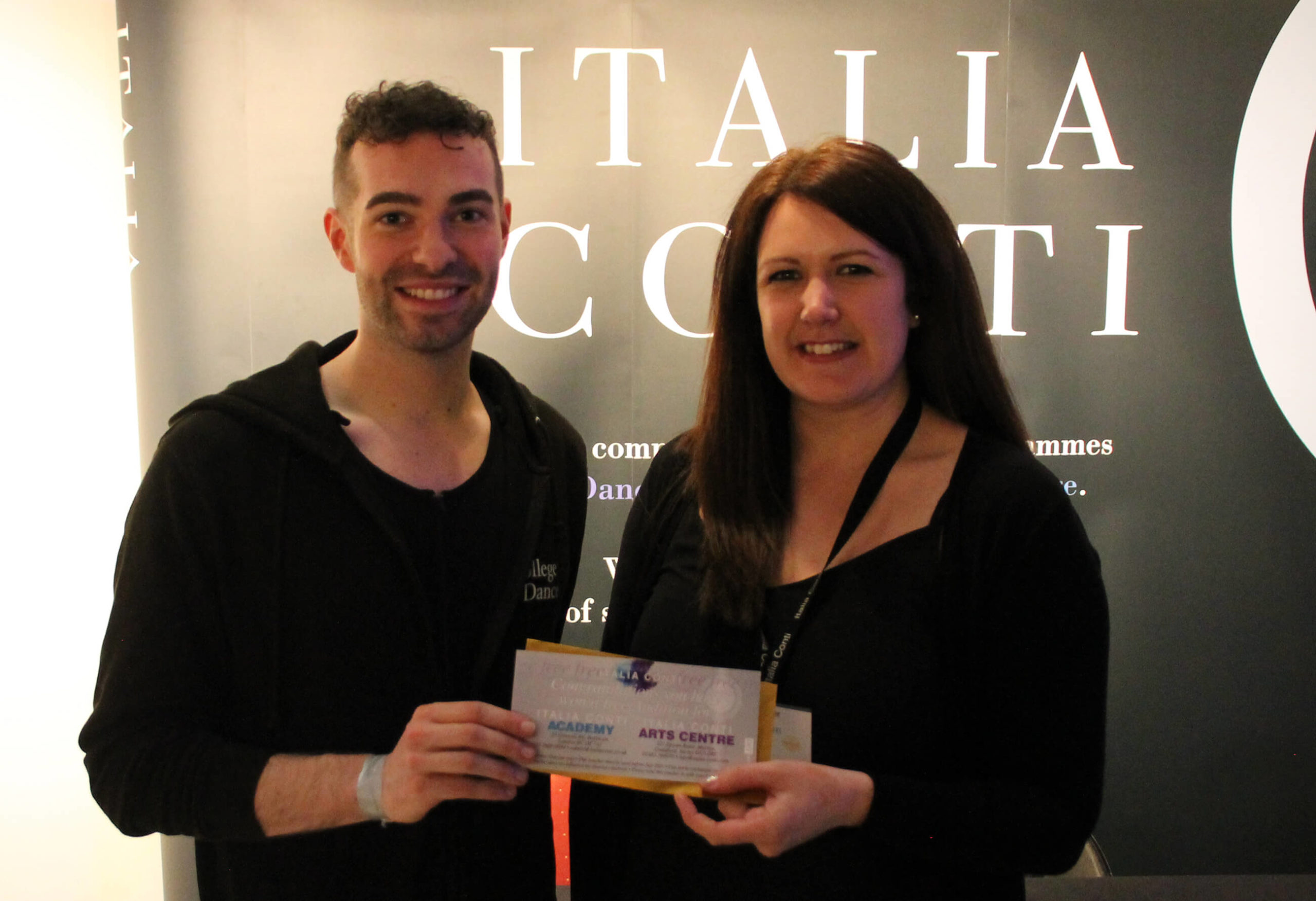 As an organisation it was phenomenal to see the over-whelming interest in the College of Dance's various programs. Our Easter Intensive competition had over 450 applicants for scholarship places. We are also delighted to announce that there was a record number of applications to join the College's two-year Diploma course and our one-year Transition Year program. We look forward to welcoming these new students to the College over the coming years.
We can't wait to be back at Perform Festival in 2021 and look forward to seeing you all the show.